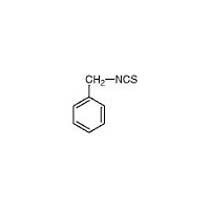 Benzyl isothiocyanate (BITC) is one of the common isothiocyanates used in medical fields. This compound or ingredient is found in cruciferous vegetables such as broccoli, cabbage or watercress. Preclinical studies report its effectiveness in the prevention and treatment of several cancers. This review aims to inform and discuss findings on anticancer activities of BITC and its modes of action against 14 types of cancer. Benzyl isothiocyanate is a member of natural isothiocyanates with antimicrobial activity. Benzyl isothiocyanate potent inhibits cell mobility, migration and invasion nature and matrix metalloproteinase-2 (MMP-2) of murine melanoma cells.
General description
Benzyl isothiocyanate is a naturally-occurring constituent in cruciferous vegetables. It has antibacterial properties, and its metabolism in man has been explored. It inhibits chemically induced cancer in animal models.
Application
Benzyl isothiocyanate can be used as a reactant to synthesize:
• benzylthioureas by reacting with various amines.
• N-benzyl-O-alkyl carbamates by treating with long-chain alcohols.
• 3-mercapto-1,2,4-triazole building block by reacting with formylhydrazine via acyl thiosemicarbazide intermediate formation.
• S-(N-benzylthiocarbamoyl)-L-glutathione and S-(N-benzylthiocarbamoyl)-L-cysteine.
• Benzyl isothiocyanate has been used to prepare S-(N-benzylthiocarbamoyl)-L-glutathione and S-(N-benzylthiocarbamoyl)-L-cysteine.
• BITC treatment leads to stabilization and activation of p53 via extracellular signal-regulated kinase (ERK) and PRAS40 in breast cancer cells
• Benzyl isothiocyanate alters the gene expression with cell cycle regulation and cell death in human brain glioblastoma GBM 8401 cells.
• BITC induced cell morphological changes and reduced viability of NCI-H460 and NCI-H460/G cells
• BITC induced apoptotic cell death in NCI-H460 and NCI-H460/G cells.
• BITC induced chromatin condensation in NCI-H460 and NCI-H460/G cells.
How is it effective in having anticancer effects?
Numerous studies have also demonstrated the anticancer effects of isothiocyanates in various cancer types, such as leukaemia, breast cancer, prostate cancer and lung cancer.
Isothiocyanates suppress tumour cell growth by causing oxidative stress, inducing apoptosis, causing cell cycle arrest, and inhibiting angiogenesis. However, the mechanism underlying the growth inhibitory effect of isothiocyanates against cancer is not fully understood.
Adverse effects
No serious adverse effects of isothiocyanates in humans have been reported. The majority of animal studies have found that isothiocyanates inhibited the development of cancer when given prior to the chemical carcinogen.
Practical Application
BITC is present in papaya seeds and can be extracted and purified. Exploring its antibacterial activity and main action pathway may facilitate its application as a new bacteriostatic agent in the food industry.
How to get a Benzyl isothiocyanate supplier?
Benzyl isothiocyanate suppliers are engaged in the continuous supply of these chemicals. For your business, you can procure bulk chemicals from leading suppliers. They will offer you the following benefits:
• Premium products with superior packaging in palletized drums and containers
• Quality tested; laboratory manufactured superior grade materials
• Timely online marketing of a flawless range of products
• Immediate delivery to the customers
It is advised to do comprehensive research about the suppliers before making a deal.
These products are manufactured under the guidance and supervision of experts who always are dedicated to manufacturing quality products. Thus, their services and products are also passed through stern levels of quality check to ensure that only the best quality products are being delivered to the valued customers.